In this article you will learn how to open check-in for a specific flight.
NOTE:
Check-in feature is additional features and not available in all packages.
In order to start a check in process for a flight, operation staff first needs to change the status of the check in to open.
The 'open check in' is done from the flight screen. (Not sure what is Flight Screen? Learn more.)
On the bottom right, tick the Check-in open check box.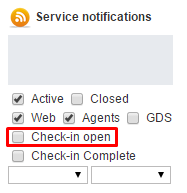 All of the flights which the check-in open check box is ticked are now shows in the check-in sub-module. (Check in module -> Check-in sub module)

In order to start the check-in, follow this article. How to do check-in?