Dear customers,
In the following article you will learn how to create and manage flights crew via the GO7 PSS system.


Creating & Assigning Crew Members
In order to create new crew members in the system, follow the steps below:
Go to the Crew module
Click on the Crew types sub-module
Add the relevant crew types that you wish to have in the sy

ste

m (don't forget to mark it as active):

After you have finished to create the crew types in the system, click on the Crew sub-module (this sub-module will present you with all of the crew members in the system)
Click on the New button ()
Fill all of the relevant information for the new crew member, and then hit the Save button.


Allocating crew member to a GO7 user account
When creating a crew member in the system, you are given with the option to select a system user.
Allocating a specific system user to a crew member will affect the calendar view (you can read more about the calendar feature in the following article: Operational Calendar).

If we will take the following crew member for an example: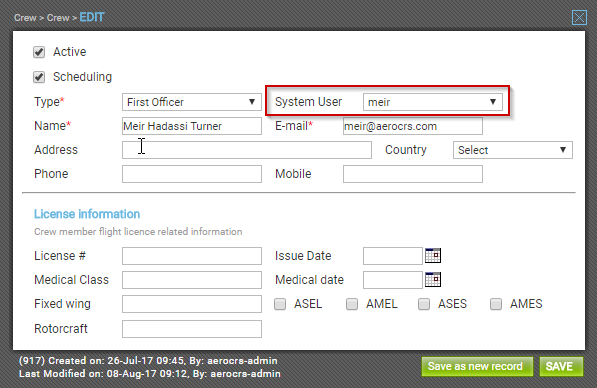 we will see that this crew member is allocated to a GO7 user account that named as "meir".
When this user account will login to the system and open the calendar, the calendar will only show him flights that he assigned to this crew member.


In order assign crew members to flights, follow the steps below:
Open the relevant flight screen (can be done via the SCF command, or simply by navigating into the flight screen via the Flight Series section)

Within the flight screen, you will see a small section that called Routing:


Within the flight Routing screen, you will be able to assign available aircraft & crew members to this flight:



Crew Availability
The system allows you to create different availability types for your crew. For example: "Sick", "Vacation" etc.
In order to create and assign different availability types for the crew, follow the steps below:
Click on the Crew Availability Types sub-module
Add new availability type:


Go to the Crew availability sub-module, and then click on the New button to add a new availability record:


Once done and saved, this availability will take effect immediately (in continue to the above example - the crew member Matan will not be available for assignment during 6-7 to August due to a vacation)
If you have any further questions about the Crew module after reading this article, please don't hesitate to contact us by
submitting a ticket
to our Support department, and we will be more than happy to assist you at any time.