In this article you will learn how to create website lists on GO7 PSS system.
Website lists are the categories you create and allocate webpage pages to it.
For example: You can create a header menu, and include sub menu within the menu.
Website styling: Main website list.
The rest of the pages are webpages allocated to 'website styling' list.
In order to create a new website list, go to Website module -> Website lists, and click add new button.

In the lists popup write the details of the list: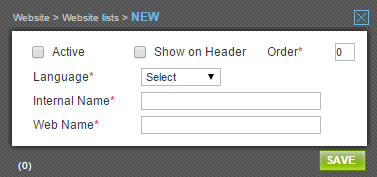 Active: Activate or de-activate the website list.
Show on header: Select if you want to show the list on the navigation menu.
Order: Set the priority of the list in the navigation menu. (Lower number placed on the left, higher numbers placed on the right.)
Language: Select on with language the list will be displayed.
Internal name: Internal name of the list.
Web name: How the website visitors see the name of the list. (If shown on header)