In this article you will learn how to charge cargo in a PNR.
AeroCRS has the option to charge for cargo. If you would like to add cargo for existing PNR, skip the first step. Click here to skip.
In order to make a Cargo PNR first create a new pnr (using the search engine)

In the popup screen, write the PNR name and select either it's a direct customer or an agency.
At the bottom of the screen you will see the green Cargo Button. Click it to open the cargo popup screen

Now you can write the type and charge for the cargo service you would like.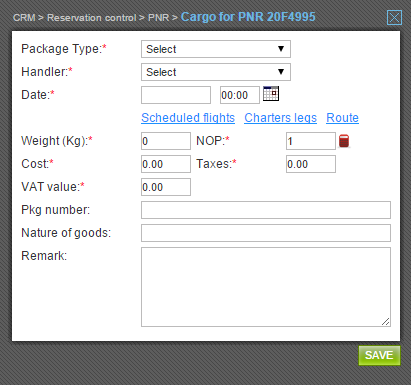 Options:
Select package type. (Want to add more? Click here)
Select handler (Want to add more? Click here)
Date - Select the date to be shipped.
Flight - Select Schedule flight / Charter leg / Route
Weight - kg / lb (Depends on system settings)
NOP - Number of Pieces
Cost - Insert manually or use calculator (learn more)
Taxes - if applicable
VAT value - if applicable
Pkg number - if applicable
Nature of goods
Remark - Additional free text to fill