In this article we will describe how you should setup the fares in your system, in case that you wish to set different values per segment.
This kind of setup is a bit different than the traditional fares setup, and relevant when you wish to set different pricing values for each segment on a round trip booking (this article is relevant for round trip fares setup only).
For example, if you want that a return leg will have different tax charge value than the outbound segment - this is the relevant setup for you.
For the demonstration purpose, we will be using the following sample route in the article: WIL-ZNZ (Wilson - Zanzibar), on class G.
Steps List
The first step, will be to create a fare for WIL-ZNZ.
As you can see from the screenshot below, there are some settings at this stage that you should focus at for this kind of setup, such as the "Fare type" setting, that should be set with the "RT Fare" option:




Note: When selecting the fare type as "RT Fare", the fare will be shown when searching for a round trip flight only, and most important - you should fill in the information in the OW fields only. Leave the RT fields with 0 (zero) when using such setup.

The next step will be to create additional fare for the return segment.
You can notice that that tax 1 and the pricing for adult are different in this segment
compare to the other outbound fare:



The next step, will be to check the settings of the relevant class (class G in this case).
In order for this kind of fare setup to work properly, you must enable the
"Use only OW fares" setting:

Once you have completed these 3 steps, these fares will be presented accordingly in the AVL screen, printouts etc.:
OUTBOUND: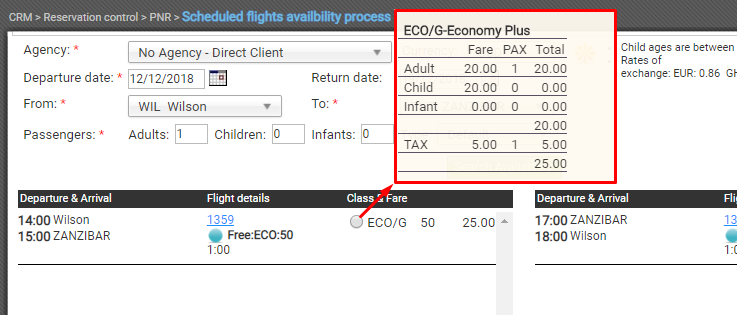 INBOUND:

If you have any further questions about this functionality, please don't hesitate to contact us by
submitting a ticket
to our Support department, and we will be more than happy to assist you at any time.