Dear Customers,
We would like to update you on a new improvement we have added to the Flight Information Display (FID) feature. This new improvement allows you to add a YouTube video that will be displayed in rotation along with the flight information displayed on the screen.
When setting the FID screen record, you can now add a YouTube video link directly, there is no need to upload any videos to the system's storage.
Please note that the display time for the external links (including YouTube videos) will be half the time set for the screen rotation.
Example: If the screen setup is with a rotation time of 20 seconds, the flight list screen will be shown for 20 seconds but all external links used will only be displayed for 10 seconds, please take this into consideration when settings up the screen rotation time.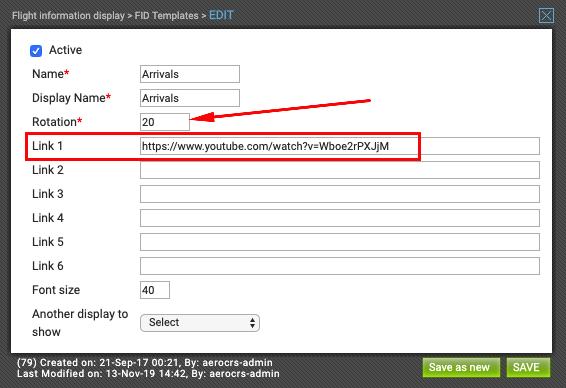 IMPORTANT: Please note that in order to have this option activated for your company, you will need to send us an activation request to support@aerocrs.com.
Please also note that after the activation and the updating of the screens settings with the YouTube URLs are done, you will have to reload all active screens to have the videos displayed as the URL for the FID screens will be changed.
NOTE: The FID feature is available only for Ultimate level companies, if you want to receive additional information about adding this feature to your system, please contact us.
If you have additional questions about this new feature, please do not hesitate to contact us at
support@aerocrs.com