Dear Customers,
We would like to update you regarding an improvement done on the integration with SendGrid for the Branded communications feature.
(Not sure what Branded Communications are? please check the following article for more information)
It is now possible to create multiple templates on SendGrid for the different languages available on your IBE and set on AeroCRS which SendGrid template will be sent per the language used by the customer when doing his website bookings.
In the following article, we take the "Web confirmation" template as an example, but this new improvement was done for any template sent from the website for IBE actions.
Follow the below instructions to have multi-lingual templates sent from your website after completing a successful booking process:
1. You will need to create all the relevant web confirmation templates for every language supported on your website on your SendGrid account.
2. Once all templates are created on SendGrid, go to AeroCRS and open the 'Administrations > SendGrid Templates' sub-module, create the relevant records for the new translated SendGrid templates.
3. Go to 'Administrations > Ref Templates' and open the template set as your default web confirmation template.
On the bottom of the template settings screen, we have added an option to add additional SendGrid templates per language: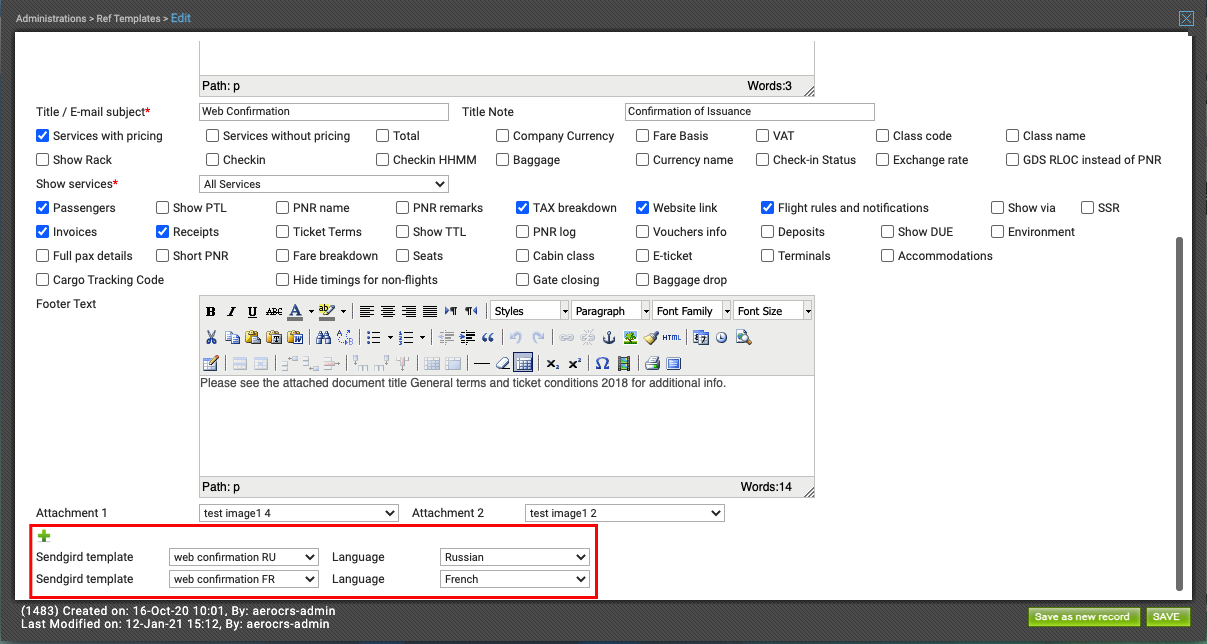 If one of your website languages is not available on the drop-down selection list, please add it on the 'Administrations > Ref. Lang' sub-module.
IMPORTANT:
Make sure that the language code entered on the Ref. Lang record is IDENTICAL to the language code assigned to the website language record ('IBE > Languages' sub-module).
Please note that you can use this new feature for any automated email sent from the website (booking confirmations, MMB actions, etc.).