In this article, you will be able to find the instructions and set up to activate your W2 Integration accordingly.
Agency Setup
Make sure you have an agency set up in the name of WorldTicket (W2), the "Web Code" must be "W2" otherwise all bookings coming in from W2 will be rejected.
Make sure the W2 agency has enough Booking limit and Credit limit to cover incoming bookings.
Make sure that the W2 agency can see all "published fares and routes" in their availability modes, either mark "See all classes" and "See generic fare schemes" etc, or according to your airline setup, make sure that you have at least one fare set for the RBD that you want to publish in GDS for the agency access.
Please note that all flights must be bookable on a "one way" basis on this agency.
Class setup
Make sure you have a "Class GDS code" with a length of 1 character mapped to the class you wish to enable on GDS, please make sure you do not duplicate this mapping.


Destinations setup
Make sure all your "GDS" destinations are selected with a relevant "GDS/LDS destination". this helps the system know which airport is in use.
If you do not see an airport that is served by you on the list, please request in support to be added.
The update of a destination to the list will take up to 2 business days.
When you open a new destination to be used on W2 flights, you will need to advise our support team so this can be opened accordingly in the W2 destinations database.
Flight setup
All the flights and classes must be enabled on GDS, here is how:
Select all the flights and pick "Set GDS status" and select Active in the Action pane on the right
FLIGHT NUMBERS SHOULD NOT CONTAIN LEADING ZEROES OR SPECIAL CHARS
You need to update the flights to be enabled on GDS



Select all the flights again and pick "Update class", select any of the classes that you want to enable on the GDS and fill the same number of QTY in the form field and check the checkbox "Enable on GDS" and click "Take action"
Repeat this action for all classes which need to be enabled on GDS


All flights must be shown to Agents, as W2 is an agency in the system.
Day-to-day operations
By default, when you have made the flight setup, the system will automatically send W2 the status of your flights (availability) by a message called "AVS" (Availability status message), this message will auto-generate when you:
Change a flight status
Change a class
A booking is made on the flight
Close a class (Important to notice that you should not deactivate the 'Enabled on GDS' option and you should set to zero so the AVS is sent accordingly to W2 system).
From time to time, W2 might ask you to do an AVS recap, which means to send them the AVS messages for the entire route again, this can be done from the Flight Series: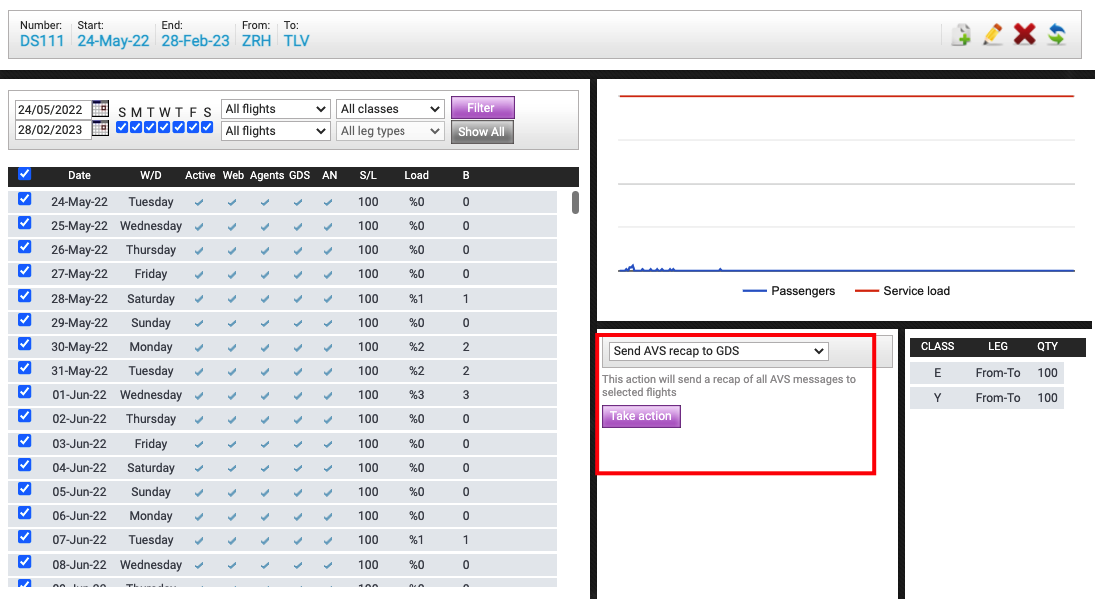 6. Make sure all the Service loads has the IATA identifier configured: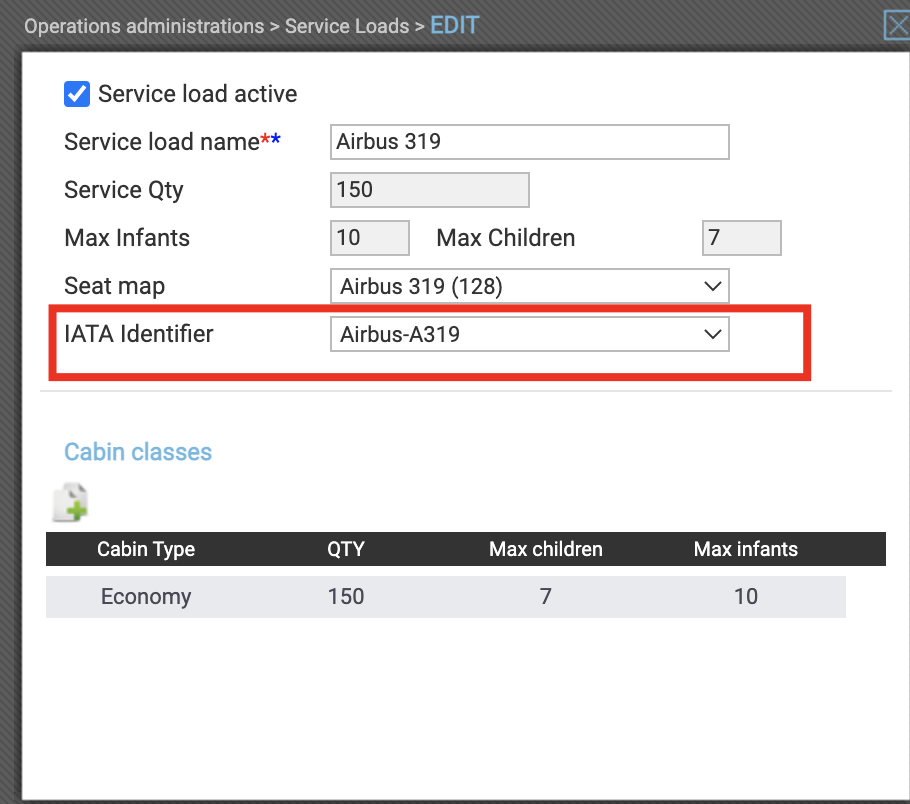 7. Create the relevant SSR (Under Operations Administrations) as shown below: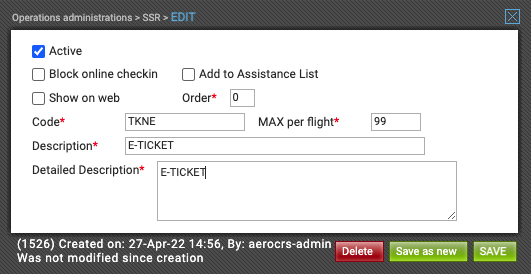 Common questions:
What if you indeed decided to close the flight series for distribution in GDS (W2) only, but you still keep it operational in AeroCRS and you do not want to have GDS PNRs cancelled?
In this case, before you deactivate distribution for GDS channel, please reach Go7 support team and inform about specific flight series (route , flight number) you want to switch GDS distribution for. Our team will make necessary adujstments on our side to prevent cancellation of the flights, and will reconfirm to you. After receiving confirmation from our team, please go ahead and deactivate GDS distribution the regular way. The flight series will be removed from SSIM file, but due to extra configuration done it will not be cancelled on our side (the sales will be closed), and already existing PNRs will not be affected.
What if you really want to fully cancel a flight series in AeroCRS, as you decided not to operate it?
In this case, just deactivate the flight series in the regular way. The flights series will be excluded from SSIM file, the schedules would get cancelled in SMS5 and in GDS, and GDS agents will get informed about the cancellation
Coupon updates:
Notice that W2 will be able to update the coupons on their side according to PRL messages sent from our side.
PRL messages will be sent only when "Boarded" status is updated for passengers.